Your Tucson, or Southern Arizona AZ home can suffer damage from the area's monsoons and summer heat. Water can get into the house.
Trees or telephone poles can fall onto the roof.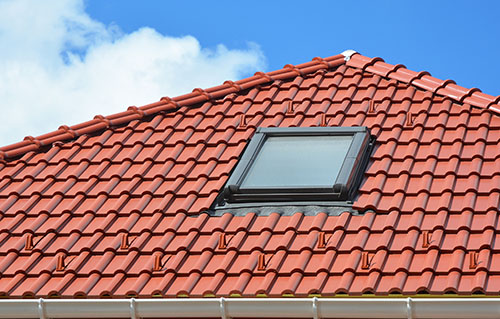 These are just a couple of examples of how a storm could damage your home and put you in need of roof repairs.
A roof in prime condition provides protection that helps keep your family and belongings safe within a secure shelter.
Having a roof that fits the Arizona climate conditions can make a difference.
Tile roofs offer are an excellent choice.
They are characteristic of the Southwest landscape and also offer functional benefits that are perfect for the area.
Pros and Cons of Tile Roofing in Tucson
A tile roof can easily handle the heat of a blazing Tucson summer.
The sun won't burn or rot this type of roofing.
These tiles can also handle high winds and heavy rains that you experience during a monsoon.
They're even fireproof and resistant to insects.
And the tiles help control the home's indoor temperature, which is ideal during the heat of an Arizona summer.
Another plus of tile roofing is that it's often expected to last for 50 years yet is capable of lasting much longer.
This means that once you install this roof, you can expect it to stay there for as long as you live in your home.
Nonetheless, it's important for you to know that there are downsides to this type of roofing.
It's a larger investment than shingle roofs.
However, it offers a great value since it lasts so long.
When choosing to have a tile roof installed, you need to make sure you have attic wood that's strong enough to hold up the weight of these tiles.
Contact Us For a Free Quote
While the tiles themselves should last during your time in your home, you'll have to take care of maintenance.
The underlayment beneath the tiles needs to be replaced every eight to 20 years.
This prevents leaks and tile breaks.
Also, the tiles can break, which could happen in a summer storm if a tree or pole falls onto the tile or wind debris flies into it.
Tips to Prevent Damage
It's smart to get your tile roof inspected and maintained before the summer season hits.
This can ensure the best condition to handle storms.
Make sure you use a licensed roofing contractor who are experienced with tile roofs to prevent damage.
Also, roofers can recommend certain customizations, such as tile shape and fasteners to prepare for the specific weather conditions in your area.
If you want to discuss tile roof installation or need a tile roof repaired, contact Tony's Roofing.
We can ready your roof for monsoon season or offer emergency roofing services if you face damage during a storm.
Your homeowner's insurance may even cover the cost of your roof repair or replacement.
You can rely on our family-owned and –operated roofing company, which has been in business for over a decade.
We have earned an A+ rating through the Better Business Bureau.
Plus, local Tucson residents rave about our fast response and integrity.
To learn more about real customer experiences, check our online reviews.
Contact us today for a free estimate. 520-308-2175.