Flat roofs offer a characteristic Southwest style that's perfect for Southern Arizona.
Nonetheless, it's important to consider the local Tucson area weather before choosing a roof.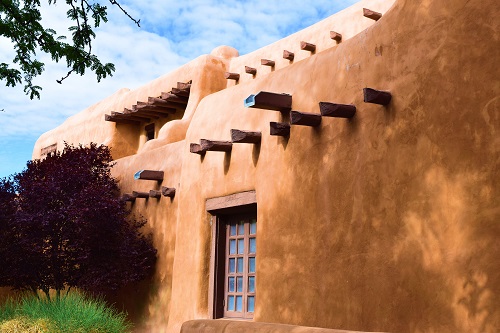 Or if you already have a flat roof, you could take some steps to maintain its condition and prepare it for changing weather.
While you might love the look of this type of roofing, is it best for the extreme heat and monsoons that come with living in the area?
Pros and Cons of Flat Roofing in Southern AZ
We know a flat roof looks good within Southwestern style. But it can also have some practical benefits.
The flat roof style can withstand the strong winds your home will experience during monsoons.
This is a plus over pitched roofs, which are more vulnerable to damage from heavy winds.
Better protection can help keep your home and family safe during storms.
Both flat and pitched roofs can experience thermal shock from the hot roof being suddenly hit with rain, so they are comparable on this measure.
You can ask an experienced roofing company about the best ways to deal with this concern.
However, flat roofs can also become problematic in the Tucson area during monsoon season.
That's because the heavy rains can build up on the roof and lead to leaks, whereas pitch roofs help the water fall away from the roof.
Nonetheless, performing maintenance on a flat roof and having it inspected before monsoon season can help it withstand heavy rain and keep your interior safe and dry.
Steps to Take to Improve Flat Roofing
You can take measures to make sure your roof is strong enough for tough weather conditions of the area.
Rely on a trustworthy, licensed roofing contractor to maintain the roof and fix leaks or other damage.
Contact Us For a Free Quote
If the roof is having a lot of problems, you might need to build it up with rolled asphalt and hot tar.
This built-up roof method also includes sealing roof structures.
Other choices are to add a foam coating to the entire roof or put in single-ply PVC roofing.
The built-up choice is more cost-effective, while foam provides good value for how long it lasts and PVC lasts even longer.
Roof coating can deflect the sun and help the interior stay cooler to improve your comfort and budget.
Get Your Free Quote
Based out of Tucson, AZ, Tony's Roofing understands the local weather.
We can advise you on whether a flat roof is a strong fit for your home.
If you already have one, we can guide you on how to maintain or fix it to prepare for monsoon season.
Our family-owned and –operated company comes to you with more than a decade of roofing experience.
We have an A+ rating with the Better Business Bureau and positive reviews from previous customers.
We even match quotes from licensed roofing contractors.
Whether you want to learn more about flat roofing or get an estimate on work for your current roof, contact us for a free quote.