Imagine walking outside after monsoon season and seeing roof  shingles or tiles on the ground.
Your first thought might be "Is that from my roof or my neighbor's?"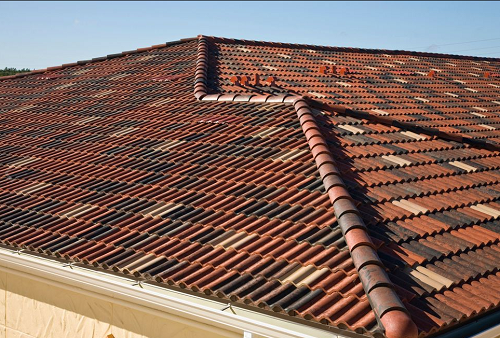 Don't just guess at the answer. The longer you wait to find out, the more you put your home and your family at risk.
The roof is one of the most important parts of your home.
It protects the entire house and everything inside, including you and your family.
All roofs eventually need to be replaced due to natural wear and tear, but in extreme environments, like Tucson and the surrounding area, some types of roofing can wear out more quickly than roofs in more temperate zones.
In addition to blazing heat, Arizona roofs have to stand up to heavy monsoon rain, winds, and even lightning every year.
Have you ever seen a roof after it's been used as a crash pad by a huge tree?
No one wants that to happen to their home, but the whims of Mother Nature are often out of homeowner's hands.
Most warranties guarantee roof coverings for about 20 to 30 years- if the roof has been installed correctly.
However, other factors affect the integrity of your roof, including how well it's been maintained, the type of roof covering, ventilation issues, previous roof repairs, and of course, Mother Nature.
If you have noticed other homes in your neighborhoods getting the roof replaced or repaired, that might be a sign that it's time to have your roof inspected.
How strong is your roof? How do you know if you need to replace all or part of it?
The experts at Tony's Roofing can quickly determine whether you need a roof replacement.
Our free estimate can give you priceless peace of mind.
Did you know your Homeowner's Insurance may cover all or part of the cost of your roof replacement if your roof has been damaged?
If your roof has been damaged in an accident, be sure to contact your insurance company to find out what your policy covers.
If you think your insurance may cover damages, we will can take pictures of the damage to your roof so you can submit them to your insurance company when you file a claim.
Contact Us For a Free Quote
An insurance adjuster from your insurance company will come to your home to assess the damage.
Then your insurance company will let you know if and how much they will pay for your roof replacement.
When having your roof replaced, it's important to choose a reliable, licensed contractor who can complete the job in a timely manner.
Seasonal timing is also an important consideration for roof replacement.
The underlying roof components must be completely dry before any overlay can be installed.
Avoid replacing your roof during the summer monsoon season if possible.
If you need your roof replaced during storm season, Tony's Roofing can do emergency roof repair and will schedule your work for a dry day.
In case of emergency, contact us immediately so we can restore your roof quickly without compromising quality.
Your home protects your family and provides comfort and shelter.
You and your home deserve quality work and personal service that has your best interest at heart.
Tony's Roofing has expertly serviced the Tucson area for more than 10 years.
Call today for a free roof inspection and replacement estimate. (520) 308-2175.
Tony's Roofing has an A+ rating with the Better Business Bureau (BBB) and will match any other licensed roofing contractor's quote.